Wake Up and Smell the Disaster

Early in this contest, I received a great question. "Anonymous" asked,

"Do you feel that the American people will willingly accept a national energy policy that actually addresses the major realities of the geopolitical economic conundrum that is global energy supply? Are americans really going to drive less or stop being so mindlessly wasteful of energy? Has anyone's energy policy in the US even grappled with the larger questions? Or do we just pay lipservice to the subject while our servicemen and women lose their lives defending our interests elsewhere?"

This question was so on-point that I saved my response to it for my final post. The wait nearly killed me, as I feel that this question uncovers a deeper, uglier issue at hand. This question not only considers the current energy issues facing Americans, but it also considers the selfish rational that is holding a progressive energy movement back.

Unfortunately, I do not feel that the majority of Americans will accept such an energy policy unless it offers highly rewarding instant gratification. If Americans are in any way put out by the energy policy's terms and conditions, such acceptance will be hard to come by. We are all too busy trying to satisfy our own insatiable appetites. This hunger leads to wasteful energy consumption and rash decisions. Small steps such as buying energy efficient cars or being less wasteful at home have hardly been implemented by the vast majority of American consumers.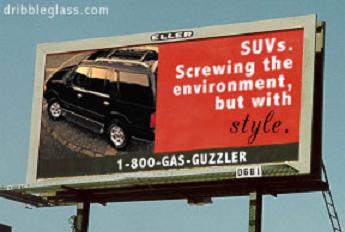 At this point, it is very important to consider the cost of our irresponsibility. This price can be paid in many forms. At the risk of sparking a political discussion, we must acknowledge the fact that such a price is not only paid in dollar and cents increments. In fact, the monetary cost should be our last concern. Crude oil has not only become scarce in the oil wells of the Permian Basin of West Texas. Like any nonrenewable resource, the constant consumption of oil will eventually lead to its disappearance. That's why it's called "nonrenewable," folks. I find it absolutely frightening that despite the many warnings that we are headed for a terrible collision, many Americans continue to selfishly speed through the flashing red light.

Brash American consumption is quickly helping to destroy the environment, but "for the owners of today's gas-guzzlers, it is easy to see this as something for the far-distant future, an irrelevance that will not affect their lives for many years to come."
-Robert Plummer, BBC News Business Reporter

All Americans must acknowledge the simple truth that the decisions that are made today will affect our childrens' tomorrows.


I would like to end this post by thanking each of my readers for their encouragement and support during this contest. I appreciate everyone's kind words, and no matter the outcome, this has been a fantastic learning experience.
I wish that it had not taken the prospect of an amazing job shadow with the United States Energy Department to better educate me on the energy subject, but I hope that my experience will motivate others, who like me could learn a lot more on the subject, to do the research necessary for a change to be brought about.
-Ashley L. Driver